Have the different types of shower doors made you confused to choose the right one?
The best shower door can bring a boring bathroom to life and add a pop of style that will not only enhances the beauty of your bathroom space but also impresses visitors.
But what design or style of shower door is right for you and your home?
Here are we to help you!
This article will cover a wide range of showers door available from functions to styles.
So, let's dig into the information below to get started.
Different Types of Shower Doors – Specialty and Much More
For your easy understanding, we've categorized types of shower door based on:
Frame Type
Operation
Shape
1. Based On the Frame Type
Framed
"Great for classic bathroom and sliding doors"
Framed shower doors feature frame around the glass that adds support and strength to the glass. The frame may be of aluminum or composite materials. They also has track that catch drips of water, so it requires regular cleaning. A framed door is more watertight than a frameless shower door. They only open inward that limits layout and design options.
Frameless
"Create a spacious, sleeker look to the shower space"
Frameless shower door features sturdy tempered glass. There is no support of metal around its edges. The glass is heavy duty which can be 3/8 to ½-inch thick. This sleek design gives your bathroom a clean and more modern feel. It makes the shower space more spacious and a lot bigger. For smaller bathroom, they can be a perfect choice. In general, they feature clips holding at the side of the glass. This type of shower door is easy to clean. This type of shower door costs twice as much as a metal-enclosed, basic model.
Semi-frameless
"Brings a sleek, streamlined look"
The semi-frameless door is an excellent choice for them who can't afford frameless enclosure due to layout limitations and budget. This design features metal around the structure of the shower and a frameless swing door. The door itself doesn't feature any frame.
2. Based on Operation
Fixed
"Let you use the door without the hassle of operating each time"
Fixed shower door are glass panels that not possible to move once that are installed. There is an open space for the user to enter and exit the bath space. However, this type of shower door is not a great option for smaller showers.
Sliding/Bypass
"Can be the best choice if your bath space doesn't have enough room for a swing door"
The bypass shower door has two glass panels that slide in the track past each other. The tracks for panels situated at the top and bottom of the shower unit. There may have additional fixed glass panels. This type of shower is a good option for a small bathroom and corner stand-alone shower as it takes up the least space and doesn't need any clearance to open and close.
Hinged
"Minimally styled that offers an open and airy feel"
For stand-alone shower, hinged shower door is a common option. They have pivoting hinges that let the door to swing out and open. In fact, this type of shower door is almost similar to the pivot door except the door is attached by hinged joints instead of pivoting pins. The hinge may be attached to the shower surround, to the wall or an immobile glass panel of the shower. Hinged shower door needs the right clearance to open or swing the door all of the ways.
Folding
"Offers a wider walk-in opening"
Folding (also called bi-fold) shower door is a practical solution for bathroom with limited space. This type of shower door is also great for corner bathrooms or if you have lacked the space for a pivot door. Bi-fold shower door features two panels, each of which are foldable inside the shower. So, it let you utilize your bathroom space as much as possible. It's also an extremely affordable option for budget conscious people.
Hydroslide
"Create a modern and sleek design"
Hydroslide shower doors bring a premium look and feel to your bathroom. It features glass with maximum durability. The "all glass" look of hydroslide shower door offers sleek and clean lines.
3. Based On Shape
Corner
"Appears the shower space very big due to the amount of glass that is visible"
The corner shower door is a perfect match for bath space located in the corner. In general, this shower enclosure has five sides when finished. Two of them are shower surround and the three are of glass panels of the door. This type of shower door features hinge for the door to swing-out.
Alcove
"Takes up very little space in the bathroom"
For a small bathroom, alcove shower door can be the best bet. This shower door operates on a hinge. So, it requires clearance to open. Alcove shower doors won't offer you the feel as open and luxurious, but they are beautiful and decorative.
Round
"Makes the bathroom space classy and improved"
Round shower doors are one type of sliding door that opens inward. The curved design offers you a more spacious bathing area. They are the great addition in the corner of the bathroom. They are attached to the bottom and top of the frame. If you feel uncomfortable with your bulky shower door that swings out, this type of door is a great solution for you. These doors offer seamless operation and are aesthetically pleasing.
Best Type of Glass For Shower Doors
"Provides an unobstructed view into and out of the shower"
Shower door with clear glass is one of the most common features of traditional bathroom space. It's also one of the most popular choices throughout the world. Clear shower doors open up the space in the bathroom. Clear glass lets the light to pass through it. This shower door looks very clean and very easy to maintain.
"Offers a soft and satin-like appearance"
If you want little privacy while in the shower, shower door with frosted glass is a great choice. These don't offer a clear view as much as a clear glass shower door. But soft light can pass through the frosted glass. This type of glass features an etched pattern on one side while the other side is plain smooth.
"Create a distinctive appearance of crystal rain patterns"
Rain Glass shower doors are the best option if you want privacy but still want the sleeker look. They are smoother on one side and textured on the other side. They will offer you a clear and more modern feel.
"Great for privacy"
If you want full privacy while showering, tinted glass is what suits you. This type of glass prevents light from passing through. They are available in black, bronze and gray tones.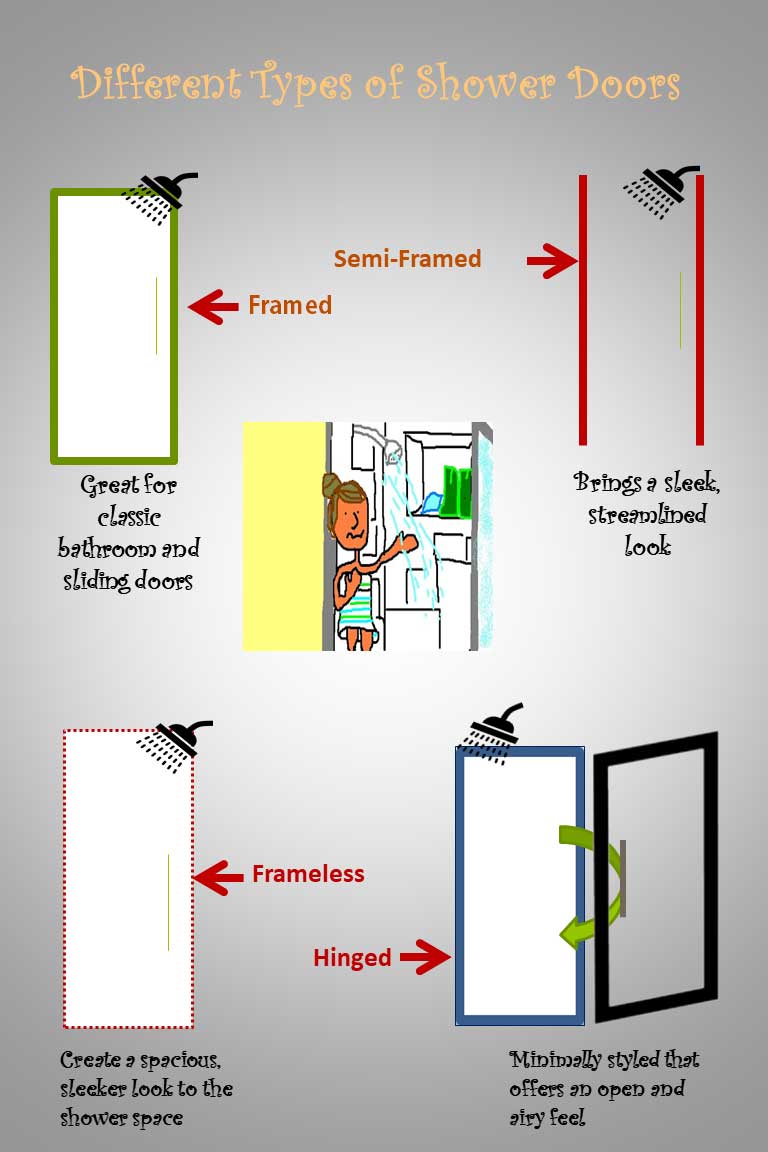 Conclusion
Learning about different types of shower doors will help you select the one that will work best for your bathroom space.
So, upgrade your existing shower space with the shower door that best matches your style, needs and budget.
Thanks for reading!