Are you facing trouble with organizing wrenches? Or are you always trouble with getting quick access to the right wrench you need? But, you no longer have to worry about that. Wrench organizer can be a great option that you should opt now.
Notably, the best wrench organizer always offers you the best way to organize all your wrenches. Moreover, it also ensures you the easy access all the wrenches within the shortest time possible.
Sounds Great! Isn't it?
Nevertheless, with a lot of options at your disposal, finding the perfect wrench organizer can be stressful.
Don't worry.
We're here to help you make the right choice through our highly resourceful wrench organizer reviews. Without wasting much of your time, let's get started.​
Quick Chart
| | | | | |
| --- | --- | --- | --- | --- |
| | | | | |
| | Gripper Wrench Organizer by Ernst Manufacturing | | | |
| | Standard Wrench Organizer by JSP Manufacturing | | | |
| | Wrench Rail Set by Ernst Manufacturing | | | |
| | Wrench Organizer by Tool Sorter | | | |
| | No-Slip Low-Profile Wrench Rail Set by Ernst Manufacturing | | | |
| | ​​​5301 Wrench Rack by Hansen Global | | | |
| | Gripper Stubby Wrench Organizer by Ernst Manufacturing | | | |
7 Best Wrench Organizer Reviews 2022
To help you make an informed choice, we've listed the top 7 wrench organizers based on quality, functionality, performance, price and more.
Enjoy reading!
1. Gripper Wrench Organizer by Ernst Manufacturing
If you're on the market to find the best-reviewed, top-rated yet budget-friendly wrench organizer, end your search here. This Ernst wrench organizer is the ultimate in tool box storage.
This wrench organizer will help you not only organize your wrenches but also securely transport them from one job site to another.
Features and Benefits:
15-wrench placement that can accommodate a variety of wrench thicknesses (¼" to 1 1/8" and 6 to 20 mm).
Sturdy handle that c​​​​an hold the fully loaded organizer without problem when carrying.
Folding space saver handle- for compact storage in a tool box/ chest drawer.
Effective clips to hold the wrenches in place and let you carry the tools without worry about falling any of them.
Simple and graduated size wrench slot that works great for typical wrench sized sets.
You can hang it to the pegboard, walls or side of a portable tool cart (need vertical cart mount kit).
Pros:
Superior design
Made of soft, non-marring materials
Fuel and solvent resistant
Hold wrenches nice and tight
Convenient and versatile storage
Lightweight and portable
Secure for transportation
Easy one-handed engagement and removal of wrenches
Proudly made in the USA
Great pocket-friendly price
Cons:
Thicker wrenches may squeeze in. But overall, it's great for the price
2. Standard Wrench Organizer by JSP Manufacturing
Are you tired of losing your wrenches due to the uncluttered job site? Then, why not give a try to this Standard Wrench Organizer to store and organize all your wrenches.
This wrench holder is perfect for wall storage and toolboxes. You can install it with or without magnetic tape or double-sided tape. Although it features plastic construction, it's heavy-duty plastic.
The angles of the wrenches sit make the user to see the stamped size on the wrench clearly. It helps the user to avoid grabbing the wrong one. Obviously, it's an excellent product for the price.
Features and Benefits
16-wrench placement does the job of holding a lot of wrenches from 25m to 1-inch.
Heavy-duty plastic construction makes it strong and durable.
Convenient clip design let you mount the wrenches easily.
Pros:
Sturdy and durable
Holds plenty of wrenches
Lightweight
Inexpensive
Comes in 2 pack (red & black)
Cons:
Not perfect to fit the mid-length wrenches very well
3. Wrench Rail Set by Ernst Manufacturing
When it comes to buying the best tool wrench organizer with maximum storage option in a compact space, then this Ernst wrench rail set worth to get consideration.
These wrench rails provide an efficient and effective way of storing different wrenches. These products let you adjust to fit any size wrench.
Features and Benefits
40-wrench placement provides maximum wrench storage in a compact space.
It can accommodate wrenches up to 32mm or 1-1/4″.
Graduated teeth and same viewing angles are perfect to fit a wide range of wrenches.
It fits nicely in most drawers, and you can also cut down for a custom fit.
The angle lets the wrenches to tilt to read the wrench sizes easily.
Magnet makes a huge difference in them staying in place.
Pros:
Made of high-quality plastic
Great for organizing multiple large sets of wrenches
Fuel and solvent resistant
Great space saver
Made in the USA
Cons:
Not perfect to hold oversized or tiny wrenches
4. Wrench Organizer by Tool Sorter-Red
Not sure whether a wrench is standard or metric? Are you hesitant about mixing standard and metric wrenches? Then, this wrench organizer can be a great solution for you.
One of the nice features of this organizer is it comes with sorting bar that can accommodate both metric and SAE wrenches. Moreover, the size is perfect to fits in most of the standard tool chest drawers.
Not to mention, this product is an improved version of Sortatool tray. But it works better with small size wrenches. In a nutshell, this tray is excellent for anybody with wrenches scattered in tool boxes or chests.
Features and Benefits
It holds an awful lot more wrenches from 7mm- ¼-inch ( length up to 6.5 inches) to 19mm- ¾-inch (length up to 9.5-inch).
13.5″ x 10″ x 1.5″ tray size offers a decent amount of storage space for extra wrenches.
Integrated sorting bar allows the wrenches slid-flip- store in the right place as simple as that.
Clearly labeled slots let you pick the right size wrench you need.
Pros:
Convenient and lot of storage options
Well made & durable
Made of sturdy ABS
Easy to use
Compact and portable
Made in the USA
Cons:
Doesn't snugly hold the wrenches
The size guides the side of the holder next to the wrench doesn't always match the wrench next to it.
5. Low-Profile No-Slip Wrench Rail Set by Ernst Manufacturing
So, your wrench holder holds your tools nicely, makes easy to retrieve and store them. Great!
But, your wrenches slide off easily from the holders. So, to overcome this problem, you've tried different designs of wrenches holders. Right?
No worry! Ernst Manufacturing brings you this no-slip low-profile wrench rail set. No matter, how you shake your tool box, these wrench rail will grip all your wrenches in place.
This amazing product not only organizes your wrenches but also helps you keep track of your wrenches, as well as securely transport. It also makes missing wrenches obvious. Furthermore, it let you view the size marking on the handles more easily.
Features and Benefits
​Low profile design is perfect for all drawers, even the most shallow one.
​Face forward wrench placement in a uniform row allow you to identify the sizes and any missing wrenches easily.
​The package includes two forward and two reverse configuration rails that maximize space usage of your drawers.
​Its plenty of slots can accommodate 30 wrenches. It's a great option for organizing different wrenches.
​High-grip rubberized material construction makes it easy to transfer from drawer to drawer.
Pros:
Arrange the wrenches in a nice fashion
Great design and materials
Designed for quick identification and ease of access
Good quality look and feel
High-quality rubber construction
Space efficient
Made in the USA
Cons:
Found nothing for the price
6. 5301 Wrench Rack by Hansen Global
Here is our next from the Hansen Global, one of the Innovative Tool Storage manufacturers in the world.
Hansen Global wrench rack organizers are more efficient for organizing the wrenches than any flat pocket sleeve. It not only organizes your wrenches but also makes it easy for you to grab the right size you need. Its slots are perfect to fit multiple shapes and sizes.
On the whole, it's a nice and useful wrench rack at a terrific price to have the wrench sizes on the rack.
Features and Benefits
​Sizes marked on tabs for instant identification, and it makes sizes easy to grab and work.
​Each slot features patented spring tabs that help to keep wrenches in place.
​Empty slots help you to identify which wrenches are missing quickly.
​Low profile let you fit it in 2" deep toolbox drawer. So it won't interfere with the opening and closing of the drawer.
​Molded-in carry handle feels very nice.
​Holes for peg-hooks let you hang it on the wall to keep your frequently- used wrenches right at your fingerprints.
Pros:
Very Well built and sturdy
Made of tough Polypropylene plastic
Easy to access
Made in the U.S.A
Lifetime warranty
Less expensive than other wrench racks in its class
Cons:
Users expect a little improvement in the design to accommodate numerous brands of wrenches.
7. Gripper Stubby Wrench Organizer by Ernst Manufacturing
Surprisingly, this is our fourth inclusion from the Ernst Manufacturing, one of the Leaders in Tool Organization and Shop Solutions. This amazing wrench organizer let the user immediately find the wrench of choice and go, saving valuable time.
Furthermore, the unique stubby design helps you to transport your wrenches to the worksites securely. In addition, it can accommodate 3/8" to 1" line and stubby wrenches.
In summary, it's a superior organizer that provides the ultimate in toolbox storage.
Features and Benefits
​11-wrench placement for accommodating line and stubby wrenches from 3/8- inch to 1-inch.
​The stubby design can also hold the regular wrenches.
​One-hand engagement and removal of wrenches let you work efficiently.
​You can hang the organizer on pegboard, walls or side of the mobile tool cart.
​Folding space saver handle folds out of the way without taking any additional space in the drawer, but you can still use when you do want a handle.
Pros:
Unique design
Made of soft, non-marring material
Quite functional
Offers versatility
Solvent and fuel resistant
Made in the USA
Cons:
It doesn't hold wrenches smaller than 11/32 tightly.
---
B
EST

W

RENCH

O

RGANIZER

: B

UYING

G

UIDE

"How do I choose the best tool wrench organizer?"– it's a common asking for most of the tool users.

Well, when buying a wrench organizer, you should consider some key points. However, before choosing the right wrench organizer, you need to-
determine what your specific needs
examine what types of wrenches you have
calculate how many wrenches you have
whether or not you will be transporting the wrenches regularly
Hope, these points will help you to go ahead.
Factors you should consider
# The Number of Compartments
This first thing you should consider when making a buying decision is the number of compartments. Usually, toolbox wrench organizers come with different numbers of compartments.
Do you have a lot of wrenches?
Then, choose an organizer large enough to accommodate of your wrenches. A toolbox wrench organizer featuring with one more compartments will also offer you easy accommodation of all the wrenches safely. Furthermore, it'll ensure you a quick accessibility of your wrench when you need.
On the other hand, if you have only a few wrenches, consider to buy tool wrench organizer with fewer compartments.
# Types Of Wrenches You Need To Organize
Besides the number of wrenches, you also have to take into account the types of your wrenches. Box wrench organizers are usually plastic made and comes with the box wrenches. This organizer let you to access the tools easily when hanging from a pegboard.
# The Design
Some wrench organizers are designed for easy storage or carrying. On the other hand, some are designed to be used in a permanent spot like garage or workshop. So, before making a purchase, you need to determine your purpose of using a wrench organizer.
If you need to transport the wrenches regularly, opt for an enclosed portable wrench organizer. No doubt, enclosed and large wrench organizer is a great way to move a large number of wrenches from one place to another.
There are some toolboxes with individual wrench drawers. On the positive side, these wrench drawer organizer serves as a great option to organize and transport your wrenches. In addition, it'll also serve as a better storage option. On the negative side, these options may be very heavy when loaded with many tools and wrenches.
Plan on throwing the wrenches in your mechanic tool box for easy transport? Then, a wrench organizer sleeve with individual pouches can be a great option. You can roll up the sleeve. It makes it compact and prevents the wrenches from falling out during movement.
If you're in search of the best mechanic tool box, read our review here.
# Portability
If you need to transport your wrenches frequently, then portability of the wrench organizer is another factor to consider. Choose the lightweight option first. You should also go for compact design.
# Construction
Generally, wrench organizer features metal or solid plastic construction. You should select a quality and durable wrench organizer. A strong and sturdy product will keep your wrenches for a relatively long time.
# Price And Your Budget
Although wrench organizers are affordable, still you need the one that will suit your budget. Right? These products also come with a long-term warranty. It'll help you to use the products years after years without any worry.
Equally important, you should also check for other extra features such as wrench organizer trays, color and so on.
You may like our reviews of Best Pin Nailer.
How To Organize Wrenches In Toolbox?
If you're the owner of many different types and different sizes wrench, picking the right one for an application can be challenging.
Sounds Terrible?
Relax!
There you'll show you how to organize wrenches in toolbox.
Although it's a highly personal matter, there are some basic ways to follow to organize your wrenches in the toolbox. Our process is simple and easy to understand, easy to do and easy to maintain.
​Like many things, wrench organization is highly dependent on several things. For example,
How many wrenches do you have?
How much space do you have?
Where is the room?
What kind of tool box do you have?
What do you do with your wrenches?
and so many more…….
So, today we're going over some of the ways to organize your wrenches.
#1 In A Rolling Cart
Mount the wrench organizer at the back of the roll cart. This is great because it doesn't take up a footprint in one of the doors or top of the roll cart.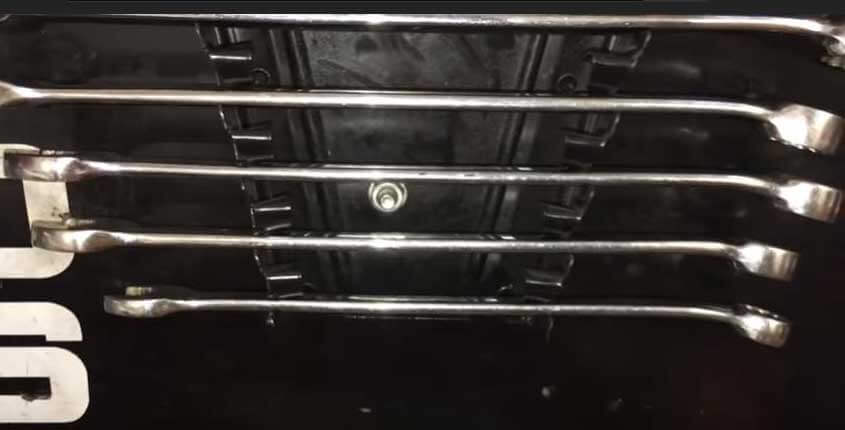 #2 In the roll cart to keep the wrenches store laying flat-
You can use a plastic holder or gripper wrench holder. It works great for long size wrenches. If you have small wrenches, you need something narrower.

#3 Using a tray
House the wrenches in the tool tray. You can actually fit more wrenches in this tray.

#4 Using plastic and foam
If you're the type of person that doesn't like to have your wrenches scratches on, this will be the best way to store your wrenches.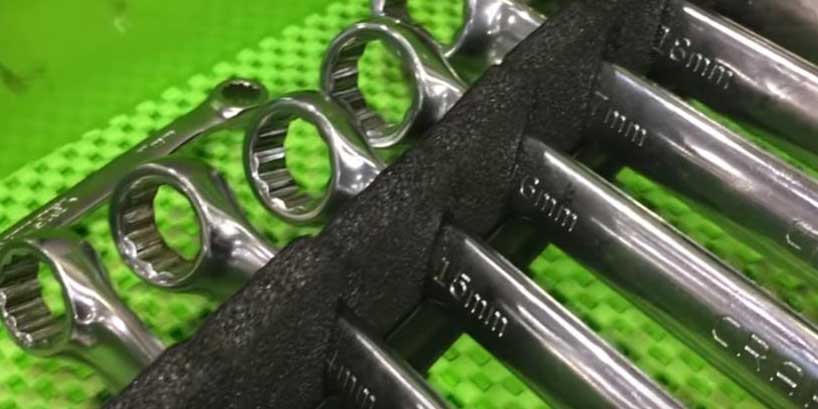 #5 In-foam store
This is an excellent way because it keeps the wrenches so organized that at a glance you can find out if something is missing. Everything is numbered and everything is labeled.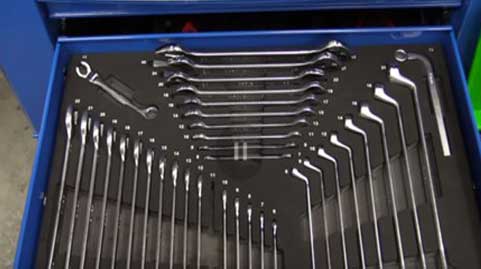 #6 Using a magnetic bar
Get a magnetic bar and hang the wrenches.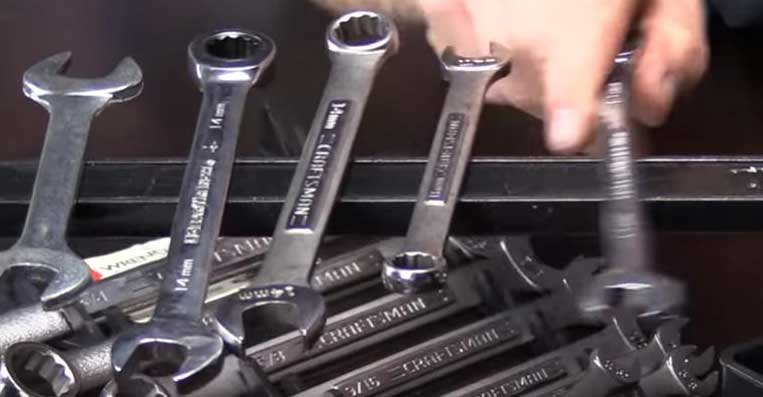 #7 Using plastic case
If you're a moving technician and need to transport your wrenches frequently, you can use a plastic case or metal case.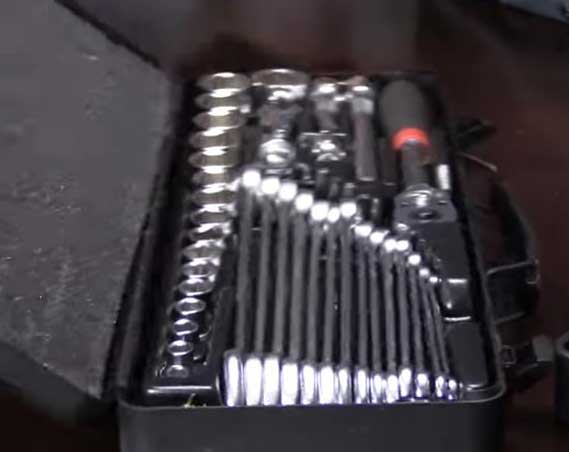 #8 using a carabiner
This is a great way to keep various sizes wrenches organized for easy access. You need to clip the closed end of the wrenches on the carabiner and hang it in your garage or shop. You can also hang it on a belt loop. As you've all the wrenches together in one place, you can throw them in your toolbox.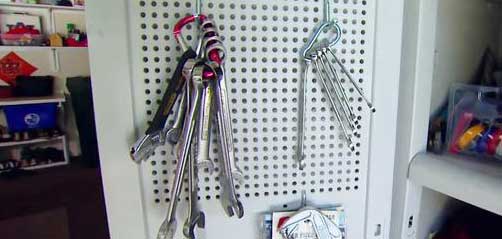 Conclusion
Whether you're a hobbyist or professional, you need a wrench organizer that is well-made, functional, and ideal for frequent use.
All the seven best wrench organizers we reviewed here are high-quality, well-built, and functional compared to other wrench organizers within the same class. So, there is no reason why you shouldn't pick one from this list.
However, don't just take our reviews for it. Grab your wrench organizer today and experience the difference.