"No more noticeable nail holes; no more filling"- the best pin nailer promises this.
​So, you're working on a very precise woodworking finishing project. Right?
Looking for a tool to fasten trim and small pieces of wood instantly and invisibly with a flick of your index finger?
Then, a pin nailer can help you a lot to meet your needs.
Using large-diameter nails could damage your project if it involves working delicate materials. In these cases, using a micro nail gun can be an excellent choice for you.
However, if you're confused to pick the right pin nailer for your work, hope our review will help you a lot. For you, we've reviewed here top 7 pin nailers from the honest point of view. Certainly, they'll bring convenience to your delicate woodworking project.
Check out our list.
What Is a Pin Nailer?
Pin nailer is one of the smallest tools of the finish nail gun family. This tool is also known as a pinner, micro-pinner, headless pinner or 23 ga pin nailer.
A pin nailer is an extremely useful and handy power tool to use for nailing delicate and detailed work. It's ideal for woodworking, crafts and home improvement projects.
In general, it drives thin 23 gauge headless or slight head fasteners into the very precise wood piece. It's also quiet and pleasant to use.
So, what's the specialty of a pin nailer?
Well, the great part about a pinner is it leaves no mark on the working surfaces where it's used. The pins almost disappear into the workpiece creating a smooth and finished look. So, you don't need to use wood putty to fill.
A pin nailer is perfect for all detailed woodworking applications such as-
Fastening picture frames
Installing molding
Kitchen cupboard
Decorative trim
Window beading
Cabinetry
Any home remodeling project
Comparison Chart : Best Pin Nailer
Are you in a rush? Then, our comparison chat will help you to make a quick as well as wise buying decision.
| | | | | | | |
| --- | --- | --- | --- | --- | --- | --- |
| | | | Fastener Type (headless pins) | | | |
| | | | | | | |
| | | | | | | |
| | | | | | | |
| | | | | | | |
| | | | | | | |
| Makita AF353 23Ga Pin Nailer | | | | | | |
| Porter-Cable 100 Pin Nailer | | | | | | |
Top 7 Best Pin Nailer Review 2022
Here are our 7 best, high-quality pin nailer. Although each of the products has its own advantages and disadvantages, we assure that all of these pin nailers are second to none in functionality.
Read our best 23 gauge pin nailer reviews and pick the right one for your project!
1. Grex P635-
Top-Pick
Pros:
Innovative and ergonomic design
High-power performance
Lightweight and compact
Easy to maneuver
Added control and security
Clean and safe output
Reliable and build to last
Cons:
Somewhat tough to load the new clip of pins if there is a few lefts of the old clip.
Over-priced for h​​​​obbyist
The first product on our list is P635 23-ga headless pinner from GREX, one of the thriving companies in the world. This product received "Best New Tool" award by POPULAR WOODWORKING in their December 2005 issue.
This P635 industry-standard pneumatic powered pinner is perfect for any detailed and finishing woodworking. This nailer offers many beneficial as well as competent features.
First, it's a great product for different uses from frame assembly to joint pinning. The power and flexibility that it provides make it perfect to use everywhere from craft shops to construction sites.
Second, this pinner offers you the control and flexibility to create an attractive finished product. No matter, you frequently need to perform detailed trim works. Its lightweight and compact design is ideal to work comfortably overhead or extended pinning jobs. It uses smaller nails and leaves no splits or visible holes in a finished piece.
Third, this product is safe to use. The double safety trigger prevents accidental firing. Moreover, the magazine angled cut-off and the quick access magazine storage adds more convenience. Not to mention, it features a fastener indicator that let you know if the reloading is necessary.
Ever noticed how old-style pinners interrupt your working process to adjust the pin length? In fact, the best part of P635 is its trouble-free pin loading and unloading. You don't need to make any adjustment for pin sizes. This feature makes it a convenient and easy load-and-go pinner.
The P635 features a 100-pin magazine capacity. This feature not only let you work without interruption but also significantly reduces the time taken between reloads. So, you can complete your work/ projects on time without having to reload the magazine frequently.
That's not all.
Here are some of the features and benefits that this pin nailer has to offer.
Features and Benefits:
Patented design and self-adjustable magazine– to eliminate the need of adjustment for different fasteners sizes
Industrial-strength motor– to penetrate fasteners through the hardwood easily
Broad fastener range- to accept pins from 3/8" to 1-3/8" (nine different sizes)
Removable nose cover– to provide you the easy access for jam clearing
Built-in double-trigger safety– to prevent accidental firing
Narrow nose– to help the pinner to reach into corners and tight spaces easily for detailed trim work
Removable no-mar tip– let the user work with more precision and offers clean and expert results
Built-in silencer- to reduce the noise
Rear-exhaust system- to direct the nailer's oil and dust away from the user
Convenient belt hook- let you carry it easily with you wherever you go
2. Fasco 11297F F23C A64-50PB-
Best Price
Pros:
Exceptionally versatile
Lightweight and compact
High-quality and perform well
Convenient and trouble-free
Easy to use
Quiet operation
Cons:
Some users complained that it jams easily which is difficult to clear.
Are you looking for a highly versatile air-powered pinner that can deliver neat results without causing splits?
Then, look no further than the Fasco F23C A64-50PB. This pinner is often regarded as one of the best 23 gauge pin nailer. The lightweight design makes it ideal for the DIYer or crafter. On the other hand, the robust construction let you use it in professional jobs.
This tool comes with highly innovative features for consistent pin penetration in both soft and hard materials. So, the reliability of this pinner cannot be put to question. It comes with all the power to drive 2-inch pins into hardwoods easily.
Obviously, you can always rely on Fasco F23C A64-50PB for working on any delicate items. Decorative trim, crown molding, and craft work- it's great for all that purposes. The fact that it can automatically adjust for different fastener lengths makes it ideal for user on-the-go.
As if that is not enough…
This pinner can accept all 23-gauge micro pins ranging from ½ to 2-inch in length. Moreover, the 120 fastener magazine capacity not only reduces the downtime but also increases productivity. Not to mention, it features hardened steel driver blade, aluminum internal parts and aluminum housing that make this tool durable.
Above all, Fasco F23C A64-50PB is the great quietest air tool at a reasonable price.
Want to know more about this tool? Of course, you do. Let's have a look into some of its top features.
Features and Benefits:
Patented design- to automatically adjust the different fastener sizes
120 fastener magazine– to keep the downtime to a minimum
Lock-out system- to prevent dry firing
Narrow tip- to make it easy to shoot the pins into the darker grains of the stained wood
Rear exhaust with muffler- let it accesses tight spaces and hard-to-reach corners
No-Mar tip- let you work with smooth precision
Handy belt hook– to carry it easily
3. BOSTITCH HP118K Pin Nailer-

Best Value
Pros:
Superb magazine capacity
Ergonomic design
Spot-on precision
Offers ultimate versatility
Comfortable for extended use
Easy to maneuver
Performs flawlessly
Lightweight and durable
Cons:
Lack of power in the depth drive
Our next pin nailer is from the familiar brand BOSTITCH. For those who don't know, BOSTITCH is specialized in manufacturing high-quality tools. They have a long history of introducing innovative fastening technology for reliable on-the-job performance.
So what makes this BOSTITCH HP118K Pin Nailer stand out?
If you need more precise control over your most fine trim work, BOSTITCH HP118K Pin Nailer is best to serve the purposes. It comes with a full range of design features to offer you smooth, initiative and safe use.
This nailer is capable of providing spot-on accuracy. Not only that, but it also provides you the comfortable handling. So you can precisely and quickly accomplish trim, detailed finish and woodworking project.
The best part of this tool is it features tapered nose. It not only provides visibility around the work surface but also ensures the accurate pin placement. Furthermore, this pin nailer comes with the high-capacity magazine (200 nails). It can hold 19% more fasteners than its competitors. Thus, it reduces the frequency of reloads and increases productivity.
And you must be glad to learn that this tool comes with a belt hook, nail selection, oil, and¼-inch air fitting. All are transportable in the exclusive carrying case.
Amazing! Isn't it?
Overall, this is a good product for the price.
Now, take a deep breath as we look into this tool's core features.
Features and Benefits:
Low-profile nose piece- to offer total visibility and more precision for intricate work.
Adjustable high/low power control- let you set the pin depths without adjusting the compressor setting.
60-inch pounds driving power– for more secured nailing.
The wide range of 23-gauge pin nails– for a wide range of fasteners job-specific performance.
Accommodate ½ to 1-3/16 inch pin- to offer versatility for thick and thin lumber.
200 pins magazine capacity- to reduce the frequency of reloads and allow you to work continuously without interruption.
Over-molded grip- to ensure easy and non-slip handling.
Reversible belt hook- for added convenience on the job.
Rear exhaust port- to direct air away from the user's face for comfort.
Comes with durable case- to protect the unit between uses, during transportation and storage.
4. Hitachi NP35A Micro Pinner With Depth Adjustment-

Top-Rated & Best Budget-Friendly
Pros:
High- quality
Lightweight and compact
Comfortable to use
Feels great in the hand
Perfect to fit into tight spaces
Easy to load
Very quiet operation
Affordable price
Cons:
Some users complained about its less efficiency for firing long nails. However, by adjusting the operating pressure of about 100psi, you can resolve the problem.
If you're on the search of a professional-grade micro pin nailer for your woodworking projects, stop your search here. Our next product is NP35A from Hitachi, one of the leading brands in power tool research and development.
Hitachi NP35A is one of the top-rated pin nailers on the market today. This pneumatic tool offers you the optimum holding power. It can shoot 23-gauge headless pin. So, it's perfect for paneling, cabinetry details, trim and more.
It can shoot headless pin without denting and marring surface material. Moreover, its magazine can automatically adjust to match the pin length.
If you're concern about safety, this unit features a dual trigger that provides accuracy and safety. The first trigger is for releases and the second one is for firing. Thus, it reduces the accidental pulls.
The most lucrative feature of this unit is its adjustable depth. This feature let you gain better control over for flush drives into a variety of surfaces you're working on.
Not to mention, this product comes with 3mm hex bar wrench, safety glasses, and a surprisingly nice blow molded plastic carrying case.
In conclusion, it is a really nice nailer for the purpose that worth every cent.
Features and Benefits:
Depth adjustment plate- to ensure flush drives or countersunk into a variety of surfaces when necessary
High capacity (100 pins) bottom slide out the magazine- to reduce downtime and enhance productivity
Reload indicator- to enable you to know the low nail quantities and to minimize the chance of dry firing
Two no-mar tips– to help to protect the working surface and to provide safety and accuracy
Rear exhaust- to keep your working area free from venting pump oil and debris
Large housing shield– to prevent the nailer from accidentally hitting the work surface and thus protect the materials from the unintended mark
Removable nose plate- let you clear the jam easily
​5. DEWALT DWFP2350K –

Best 23 GA Pin Nailer
Pros:
Exceptionally well-designed
Convenient for high-volume jobs
Lightweight and reliable
Designed for finer works
Simple to use No marring or indentation
Reasonable price
Cons:
This model uses a spring-loaded latch on the nose that makes the nose a little larger than that of the other pin guns.
It doesn't work with slight head nails.
Next we'd like to introduce you to the world's first 23 gauge pin nailer with tool-less jam clearing system.Dewalt claims that the DWFP2350K pneumatic pin nailer is the product that features some interesting competitive distinctions.
DWFP2350K is a well-designed pinner that delivers clean, professional results. No matter you're a cabinet builder, woodworker, or contractor, this hard-working fastening tool is perfect for completing finish carpentry and trims jobs.
It can drive 23 ga 5/8 to 2-inch nails that recess into hardwoods like oak easily with adaptability and power. It features a trigger safety to ensure user convenience and allow you to drive nails without damaging the work surface.
This headless pinner eliminates the need to fill nail holes. If you're looking to fasten materials while keeping nail visibility to a minimum, this is the right tool for you.
The main selling point of this Dewalt DWFP2350K 23GA pinner is its tool-less jam clearing system that helps to remove the nails easily. Also, the tool-free depth adjustment lets you work flawlessly.
In general, pinners are prone to jams while running low on pins. But Dewalt adds an exclusive feature to remove the chief cause for jams. The low nail lockout with bypass and reload alert of this pinner completely eliminates the issue of misfiring with an empty carriage. Additionally, the oil-free operation of this finishing pin nailer reduces the risk of stains on work surfaces.
In terms of size, operation, extensive nail range, and power, Dewalt DWFP2350K is an excellent tool. You'll appreciate the fineness and power of this best 23-gauge pinner. It's tough to imagine finish carpentry jobs without it. Indeed, it'll make you happy!
This DeWalt 23 gauge pin nailer has more features that offer significant benefits.
Reversible belt hook- for hands free carrying on the job site
Dual trigger system- This firing mode allows you to work more easily, safely, and protect your delicate workpiece from marks.
Pin view small window- Although there is a lockout, this window will provide you a gauge for the remaining nails.
Reload alert- to notify you when fasteners are running low
No-mar tip- for smooth drive without leaving any indentations behind
Comes with hard case- to keep safe the tool avoiding the potential damage. It also includes ¼-in. fitting and two no-mar tips.
​6. Makita AF353 23Ga Pin Nailer-

Best Ergonomic Design
Pros:
Lightweight, compact design
Ideal for angles and tight spots
Precision nail placement
Offers maximum efficiency
Affordable price
Cons:
No way to adjust the depth of the impact
Plastic lock on the nail side
Makita 23 gauge pin nailer AF353 is an excellent choice for professionals who want ergonomics, control and convenience in their finish jobs. It offers you powerful performance and an array of features in the lightweight, compact size.
AF353 is designed for all-day professionals for installing moulding, tacking trim, paneling, craftwork, and a whole host of other woodworking applications. The powerful motor drives any standard headless 5/8 to 1-3/8-inch pins into any soft and hardwood.
What's more, the drop-in side loading magazine holds up to 130 nails to ensure maximum efficiency. Of course, the magazine is capable of self-adjustment to the proper fastener length when loaded.
Importantly, the anti-dry fire mechanism prevents added wear on the drive pin and damaging your tool. And the double, 2-finger trigger enhances user safety and convenience by preventing accidental triggering.
The wonderful aspect of the pinner is its ergonomic design and narrow nose. The slim nose tip ensures precision nail placement to tight angles and area. If you get close to the tight spaces where there is no room to hit the flooring nailer, this bad boy works like a champ.
Best of all, the manufacturer offers you a generous 3-year warranty. And if you're not satisfied with this product, you can return it within 30 days of purchase, and you'll get a full refund.
Needless to say, this Makita pneumatic pinner is an excellent tool for anyone who is looking for a quality product at a value price. If you keep it oiled, use the correct pins and be conscious of the recommended PSI, this nailer will last for a long time to come.
Curious to know more about this tool? Let's get down to the business.
Aluminum housing, cylinder and magazine- for long term durability and strength
Housing rubber bumpers- to protect the tool and surface from damage
Ergonomic rubber grip with anti-slipping grip- for better control and comfortable operation
Build-in air duster- for convenient cleaning of surface, tools, and worksite. The rear exhaust port directs exhaust air away from the work surface and operator.
Easy to clear nose- for easy and fast nail extraction if a jam occurs
Nail-view window- for quick identification of remaining nails.
Reversible belt hook – a great way that allows the tool to remain close
Comes complete- The package includes tool case, hex wrench, air fitting, oil-supply, no-mar tip, and safety glasses.
7. Porter Cable Pin 100 Pin Nailer
Pros:
Solid construction and durable
Easy to use and maintain
Convenient and reliable
Easily adjustable
Works flawlessly
Cons:
Some users complained that the tip leaves a very small dent on the softwood surface.
We wind up our best 23 gauge pin nailer reviews with excellent product from Porter-Cable. This unit is all about top of the line that takes care of all of your finishing projects.
It supports 23- gauge micro pins ranging from ½" to 1" long. Furthermore, it features 170 nail magazine capacities. This high capacity significantly reduces the downtime. And it ensures that you can finish your project on time without having to reload the magazine frequently.
You won't have to worry about safety when tackling your nailing projects. This pin nailer comes with dual trigger feature that prevents accidental firing. Thus, it offers added security and control.
You will admire the fact that this pin nailer is extremely easy to use. Moreover, it comes with an integrated rubber comfort grip. The lightweight design and the comfort grip make the unit easy to use for hours of operation.
But here's the interesting part…
This unit comes with a reload indicator that conveniently triggers a warning light when the magazine runs out of fasteners.
In conclusion, you won't go wrong with this Porter Cable pin nailer.
Features and Benefits:
Self-adjustable magazine- that recognizes the length of the fasteners and automatically adjusts accordingly
170 magazine capacities- to reduce the reloading time
Dual trigger feature- to give you maximum control over the machine
Low fastener reloads indicator- to let you know if reloading is necessary
Bottom load magazine– for added convenience
Rubber comfort grip on tool handle– to provides maximum comfort and control during tough projects.
---
Benefits Of Using 23 gauge Pin Nailers
The best pin nailers offer you the following benefits-
Small fastener size and more beautiful finish results are the real advantages of a 23 gauge pin nailer
They're designed to handle delicate woodworking jobs
For fastening delicate materials, an ultra-thin nail is the best option
They are more accurate than other nail gun types
They are less likely to split or damage the wood
They're lightweight, compact and come with several safety features
They offer cleaner and smoother finish
They leave no visible hole on the work surfaces that you might need sanding or to fill it in with putty
You may like our reviews of Best Wrench Organizer.
What are the different types of pin nailers?
In general, there are two types of pin nailer available in the market.
Pneumatic pin nailers (air powered)
Electric pin nailers/ battery operated pin nailer
Pneumatic Pin Nailers (Air Powered)
The positives-
Use compressed or pressurized air to shoot nails into the work piece.
Offers more power than battery powered units.
Perfect for extended use.
Usually, requires 70 to 120 PSI.
The negatives-
If you already don't have the compressor, you have to buy the new one. Although it makes the initial investment somewhat high, over time, it's cheaper to maintain and operate.
Electric Pin Nailers/ Battery Operated Pin Nailer
The positives-
Comparatively less powerful than the air-powered model.
More convenient than the air-powered model.
Can be used in different sites and you don't need to connect it to an air compressor or a power outlet.
The negatives-
The battery may run out and user needs to recharge it which is a wasting of time. However, an extra battery can help you to overcome this issue. While one is running the unit, the other one is charging.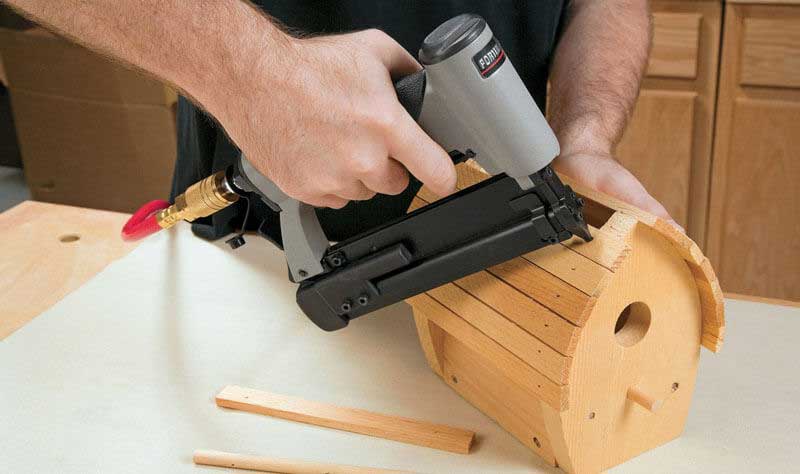 How to Use Pin Nailer 23 Gauge?
You don't need to be an expert to operate a pin nailer. The operation is very simple to follow.
Step 1: Read the user manual
First, read the user manual to understand how to use and maintain your pin nailer. It'll also provide you with the guidelines to solve common issues that you may face while using the tool. In general, user manual comes with the machine. However, you may also download it from the manufacturer's website.
Step 2: Make sure that you take the recommended nail sizes
Using the fasteners of the recommended sizes is essential. If you use the larger size than the recommended one, it may cause the machine to jam. However, some high-end models can fire fasteners of various sizes.
Step 3: Load the magazine with the recommended number of fasteners
Open the magazine>> Put the pins in>> Close the magazine and lock it.
Step 4: Lubricate the tool
Remove the cap from the air inlet and add a few drops of lubricating oil.
Step 5: Connect to the power source
Attach the unit to the compressor (if it's pneumatic) that will provide the operating pressure within the recommended PSI. Generally, pin nailers are rated at 70 PSI to 120 PSI. If you use the battery-powered pin nailer, use the recommended battery type with the required voltage.
Now, the pin nailer is ready to go.
Step 6: Tack the workpieces into place
Before start shooting the nails, tack the workpieces into place.
You may also like Best Mechanic Tool Box Reviews.
Step 7: Keep Your Fingers Safe
Hold the nails in place with your fingers and thumb. But it may increase your chance of finger injury. So, keep your finger safe while driving nails manually.
Best Pin Nailer Buying Guide
Buying a high-quality pin nailer is an investment that will offer you the best value for your money in the long term. But you need to know how to choose the best one.
Pin nailers come with different features. You should consider the following features to get the precision, maximum efficiency, and convenience from your pin nailer.
Choose the right type: Pneumatic vs. Electric
If you're a professional and frequently need to use the pin nailer in finishing projects, opt the pneumatic type. On the other hand, if you're a hobbyist and don't need to use the pin nailer in your projects frequently, a battery operated type will do the job well.
PSI (pounds per square inch)
The higher the PSI, the more powerful the pin nailer is. The wider range of PSI of the unit makes it more versatile. Generally, most of the pneumatic pin nailer comes with PSI range that let you adjust the pressure from 70 to 120 PSI. Thick materials need a higher PSI whereas thinner and soft materials need a lower PSI to penetrate the nails.
Design/ No-mar tips
Pay attention that the design of the pin nailer is user-friendly, lightweight and compact. Take into account that it won't do any damage to the materials you're working on. The no-mar tip is one of the essential features that you should consider before buying a model.
Magazine
The magazine is an essential part of a pin nailer that you should take into consideration before buying your tool. First of all, check the magazine capacity. A large magazine capacity reduces your downtime and ultimately increases your productivity. Carefully also check how easy it is to load, whether it comes with a reload indicator
Fastener length/pin nail sizes
Check the fasteners length. If your project involves working with softer woods like pine, the short pin will do the job well. On the other hand, if you need to work with hardwoods like oak, you'll need longer pin nails to penetrate.
If the model can accommodate fasteners of different lengths, take into consideration whether it requires manual adjustment or not. If it can automatically adjust the lengths of different nails, it'll help you to operate the tool efficiently.
Rear exhaust system
This is one of the useful features of a pin nailer. The unit exhausts oil and air after each firing. Rear exhaust system makes the user experience more comfortable. If the model features rear exhaust, it'll direct the debris away from the user
Depth control
If you require working with different materials, density and thickness, depth control of the unit is a crucial feature to consider. If the unit lacks in control adjustment, you have to adjust the PSI in the air compressor.
Ease- of use
Check how easy the unit is to use. Look for the jam correction feature, and depth adjustment control. It also should be easy to maintain.
Safety Features
Look for the different safety features of the model that you intend to buy. One of the most important safety features is the dual trigger. This mechanism requires pressing two triggers to shoot a nail. Next, consider the dry-fire lock-out system. It'll prevent the tool from firing when there are no nails loaded. Thus, it'll prevent to create a strike mark on the wood piece.
Additional Features
If the unit comes with safety glasses and a carrying case, it'll be more convenient for you to use. Moreover, the carrying case helps you to store the unit and keep it from damage.
Conclusion
Hope, our review and the information along with will provide you with a concrete idea what your hard-earned money will buy.
All the models we reviewed here are indeed the top-notch and you'll never dishearten at least in the functionality and performance. We've rigorously tested all the models. So, you can stay assured that you're going to get the best pin nailer from our short-list.
Lastly, don't forget to check if the selected model meets the purpose you want it to.
Thanks for reading.