So, finally you have decided to buy a new stainless steel sink.
Good decision!
Stainless steel is the most popular and one of the best kitchen sink materials. It's also becoming more popular for bathroom sinks.
Definitely, you've noticed stainless steel sinks are available in various thicknesses- 16, 18, 20, 22, 24 gauge. That means stainless steel comes in different gauges or thicknesses.
But what does this variation of stainless steel gauges mean?
Are you confused which Gauge thickness stainless steel sink is right for you?
No worry!
This article is focused on helping you to decide on the right thickness of steel sink to shop.
Hope, it'll be helpful to you to learn What Gauge Stainless Steel Sink is Best.
Read along!
What Gauge Stainless Steel Sink is best –
Here Is the Answer
Some Words about Stainless Steel
Stainless steel is a metal alloy. It comprises of steel and minimum 10.5% chromium. Chromium provides it the stainless properties. Additionally, other components (Nickel, titanium, molybdenum, and copper) may be added with stainless steel to increase its properties such as toughness, strength, durability and formability.
Stainless Steel Kitchen Sink
For kitchen sink, stainless steel is one of the best choices. Stainless steel kitchen sinks offer a clean look that matches other stainless appliances of the kitchen.
Moreover, this type of sink is highly bacteria- and corrosion resistant; and very durable. Stainless steel sinks are also very simple to clean and maintain.
​Despite all of these advantages, stainless steel sinks are the least expensive option.
After knowing so many positives of stainless steel sink, certainly you're interested in buying a best stainless steel sink. Right?
Click here to buy the best one from the best stainless steel sinks brand.
What does the term
"gauge"

refer?

The thickness of the sheet of stainless steel is called its gauge. It's the standard unit to measure sheet steel and wire products. Stainless steel sheet gauge ranges from 30 to 8.

It indicates to the different expression of other common measurements- Lower is better. That means the smaller/ lower is the gauge, the thicker the steel will be and vice versa. In other words, thicker stainless steel features a lower gauge number, whereas thinner one features a higher number. Therefore, 18 gauge stainless steel sheet is thicker than 20 gauge.
T
HIN

G

AUGES

(higher gauge number)

Thin stainless steel is perfect for small sinks. But they are more prone to denting, bowing and dings. Thin sinks are prone to resonate and tend to vibrate more than thick sinks. Heavy pans easily damage higher gauge (thin) sinks.

They are also less expensive than thick stainless steel sinks.

22-gauge sink is more susceptible to vibrating and denting and less able to handle a garbage disposer. These sinks will work fine in cabins, small bar sinks, or in recreational vehicles.

20 gauge sinks are perfect for the wet-bar sink.
T
HICK

G

AUGE

(smaller gauge number)

Thicker or lower gauge stainless is better than thinner one. But why?

Well, a lower gauge (thicker) sink is better because of:
More strength and durability
Contribution to noise reduction made by running water and dropped weights
Less prone to bowing and denting
Most of the household kitchen sinks come with 16 or 18 gauge thickness. These thicknesses are perfect in terms of size and durability needed for daily use without dents. 18-gauge is the standard thickness for household kitchen sink. It's the most appropriate thickness and cost-effective for the average size kitchen sink. These are lightweight but durable enough to handle your daily kitchen needs. 16 or 18 gauge sinks are even more powerful than the supporting cabinets.
Remember!
Thicker stainless steel typically costs more.
If you confused about farmhouse sink installation, then you might check this article.
Commercial Gauges
14 guage stainless steel sinks are great for most commercial establishment and restaurant. Thicker and larger sinks are more functional and efficient. They withstand repeated heavy uses.
The table below shows the popular gauge thickness used in sinks, density and percent decrease in thickness over 16 gauge.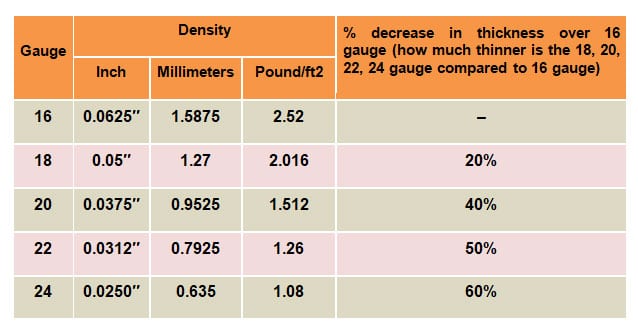 Is thicker stainless steel sink always better?
Certainly not.
In terms of structural integrity and noise damping, thicker stainless sinks are better. But there are many other factors which also play a vital role in assessing the quality of a sink, such as consistency, insulation, finish and straightness.
18 gauge vs 20 gauge stainless steel sinks
18 gauge features 0.05-inch thickness and 20 gauge features 0.0375- inch.
18 gauge stainless steel is thicker than that of 20 gauge. So, 18 gauge sinks are more durable than 20 gauge. 18 gauge sinks come with somewhat higher price tag than that of 20 gauge sinks.
16 gauge vs. 18 gauge sink for kitchen
16 gauge stainless steel thickness is 0.0625-inch and 18 gauge is 0.05 inch thick. That means, 16 gauge steel sheet is 20 percent thicker than 18 gauge. It's also stronger than 18 gauge.
So What Is The Best Gauge Number For A Stainless Steel Sink?
Firstly, for household kitchen sink don't bother with the larger gauges say 20, 22 or 24.
You may opt for 16 or 18 gauge sink.
But 16 or 18- what stainless steel gauge should I buy?
Either 16 or 18 gauge sink will offer the same top value in terms of performance, cost and overall user satisfaction.
16 and 18 gauge sinks are similarly priced.
If you find two identical sinks (one is of 16 gauge and the other is of 18 gauge) at the almost same price, go for 16 gauge. Because, there is no noticeable difference between these two gauges. So, at the same price 16 gauge will be better.
If you find two identical sinks (one is of 16 gauge and the other is of 18 gauge), and if 16 gauge sinks are expensive than 18 gauge, go for 18-gauge sink.
​​​Hope, you're no more confused on stainless steel sink gauges.
Thanks for reading our article on what gauge stainless steel sink is best.